Diamonds Are Forever (1971)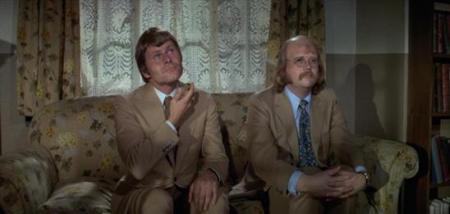 How can you top these two gay assassins :)
hah thanks, I was trying to remember what Bond these 2 were in when I made the thread. they are as camp as it gets
Awesome :)
Most of Sean Connery's bond movies happen in the 1960's and the flamboyant gay assassins were something that's not often seen in the 1960's. So I can see how it's hard to pinpoint.
Sean Connery wasn't supposed to play James Bond after George Lazenby. But 'On Her Majesty's Secret Service' didn't do well in America box office and Bond producers came running after Sean Connery.
As for George Lezenby. I don't think he was a bad Bond, but I do think (as a bond fan) that the ending of On Her Majesty's Secret Service killed the fun of a Bond story. I do think it sort of moved people away from the box office (not George Lezenby as some would believe). I also believe On Her Majesty's Secret Service was slightly ahead of it's time, because the ending would had been an awesome setup - similar to Empire Strikes Back. Therefore On Her Majesty's Secret Service 'Part 2' would be an awesome Bond revenge flick [Sorry I don't want to spoil the ending of On Her Majesty's Secret Service if you had not see it - so I'm generalizing]
But they had not made a On Her Majesty's Secret Service part 2 [as far as I know because I only watched one Daniel Craig Bond movie]. I do think to win back the 'American' fans of Bond, humor was added to the story. This is why most of the campy Bond movies are from the 1970's and some in the 1980's (especially with aging Roger Moore)
I do recall, years ago, I was watching a Bond special. They were saying that they needed to add humor to Roger Moore because he didn't seem believable as Bond. I don't think it's true. Because Diamonds Are Forever (1971) was not a Roger Moore Bond film and the humor was equally strong in that movie too. (this is why I believe the humor was inserted because of the failed success of On Her Majesty's Secret Service.
For Your Eyes Only seemed to be the only exception because the story seemed more serous (even a little more realistic then a normal Bond film).
I do agree Daniel Craig is missing that charm. But I'd always picture Bond was a guy that likes to get laid and only picked up what seemed interesting to women. Like knowing what is a good wine. The gadgets seemed especially important to him when it comes to scoring with chicks. It seemed to annoy Q but you get the feeling that Bond is a boy in a toy store. Bond also has a horseshoe up his ass. And most men fantasize to be Bond because his character is easy to relate.
Craig seemed all business and it's hard to relate.
I would think Vin Diesel would make a better Bond character then Craig.
Interesting, Kingsman: The Secret Service, seemed like a better Bond movie. If you had not seen Kingsman, you should check it out :)