THE EVIL DEAD -
Rated R
Copyright 1982 Renaissance Pictures.
Reviewed by Andrew Borntreger on 'a long time ago'





Ash - Our hero, a little more on the chubby and pansy side than I'd like.
Linda - Ash's girlfriend, possessed by the evil spirits and damn annoying with that laugh.
Scott - Your standard blonde leader guy, he gets shrubbed to death trying to escape.
Shelly - Scott's woman who gets possessed of course. He chops her up with an ax.
Cheryl - Artsy-fartsy girl, she gets raped by a tree. I did not think it up, do not yell at me...
The Evil Dead - Demons summoned using the Book of the Dead.



Overall okay. That's my assessment. Overall okay. Well, you're going to find it a little slow at times but there are a couple of really amusing parts. Especially Scott chopping up his possessed girlfriend as she screams, "No! No! You love her!" How do we arrive at such debauchery you may ask? Heart of the matter is that these kids rent a cabin where some professor had been translating the Book of the Dead. When they play the tape recording of his work it summons the evil spirits, who immediately begin causing havoc. Not only do trees (yes, trees) rape Cheryl, but Linda turns into this giggling pasty face thing. Ash burns the book to dispel the demons, and everything seems fine, we last see him screaming as something rushes out of the forest. Personally I think he was royally screwed. Though you might find this film tepid at best there is solace in the two sequals: Evil Dead 2: Dead by Dawn and Army of Darkness.
| | |
| --- | --- |
| Things I Learned From This Movie: | |
Before renting a cabin in the middle of nowhere you should look it over.
If cellar doors just pop open one should lock them and forget anything happened.
Ancient demonic texts written in human blood look alot like ballpoint.
Trees can rape women.
Evil spirit movies always have some strange dagger hanging around.
It's not difficult to chop up the woman you love.
Don't smack the dying guy.
Possessed people are just full of body fluids - blood, vomit, etc...
6 mins - None of you idiots are worried that porch swing is banging against the house when there is no wind?
15 mins - Shit! Scotty, I am going to kick your ass!
24 mins - Man, that moon is huge! It's going to crash into the Earth! Run! Run!
27 mins - Cheryl getting violated by a tree?
38 mins - Pencil through the ankle, ouch!
55 mins - Just shoot the possessed thing.
62 mins - Yes! Chop her up! No, don't get all mushy about it...
76 mins - This scene has gone on long enough, something grab him through the door. We know it's coming.
| | | | | |
| --- | --- | --- | --- | --- |
| | Audio clips in wav format | SOUNDS | Starving actors speak out | |
File
Dialog
evildead1.wav
Professor's recording: "It is entitled Naturan Demanto (I dunno, sue me on the spelling), roughly translated: Book of the Dead."
evildead2.wav
Ash: "Cheryl what's the matter with you, did something in the woods do this to you?"
Cheryl: "No, it was the woods themselves!"
evildead3.wav
Scott: "I don't care what happens to her! She's you girlfriend, you take care of her. I'm getting the hell out of here, right now."
evildead4.wav
Ash: "Oh, you bastards! Why are you torturing me like this? Why?"
| | | | | |
| --- | --- | --- | --- | --- |
| | Click for a larger image | IMAGES | Scenes from the movie | |
| | | | | |
| --- | --- | --- | --- | --- |
| | Watch a scene | VIDEO | MPEG video files | |
evildead1.mpg - 2.3m
Scott chops up Shelly, at least the body her soul used to inhabit before things got out of hand. Just oogle as he dismembers his girlfriend with a very dull axe, it is amazing what you can make up for in sharpness with weight. I wonder if Raimi had some issues with an old girlfriend by this name?
| | | | | |
| --- | --- | --- | --- | --- |
| | Leave a comment | EXTRAS | Buy the movie | |
Re: The Evil Dead
Reply #57.
Posted on May 04, 2008, 03:58:52 PM by
Rev. Powell
Raimi obviously cared a lot more about moving as quickly as possible from one cool camera trick/gory scene to another, and that keeps it from being a "good" movie as opposed to a collection of memorable scenes. Still, it's obvious why most horror fans love this one. There's a real exuberance, love and creativity to it that you don't see very often in low budget flicks.
Re: The Evil Dead
Reply #58. Posted on May 18, 2008, 12:26:27 PM by Brandon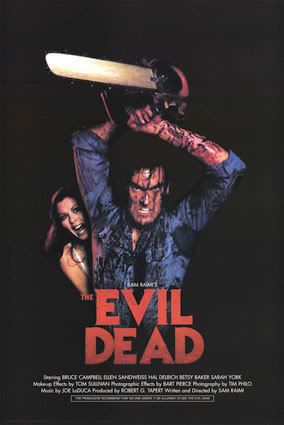 The Plot
------------------------------------------------------------------------------------------------
Five Friends Go To A Cabin In The Woods & The One The Only (Bruce Campbell) Ash So Called But They Found A Book Unleashing Evil So The Dead Rise----------------------------
The Review
-----------------------------------------------------------------------------------------------
It's A Classic Highly Recomede It So It's A Classic
Re: The Evil Dead
Reply #59. Posted on September 14, 2008, 06:30:27 AM by NHYUS
I stole this movie from somebody... sorry, ill give it back if you ask for it... army of darkness is by far the chestiestjavascript:void(0);
Re: The Evil Dead
Reply #60. Posted on August 09, 2009, 01:44:52 AM by Orion
As bad as it is this is the bad horror film by which all other bad horror films are ranked. When someone tries to sell a script for a horror movie the first words out of his mouth are usually, "This script is just like
Evil Dead
, only..." Interestingly, the girls in ED and EDII never acted before, never acted again, and have a webpage bragging about their involvement in these films. "Linda" has the dubious distinction of being the only character in any film in the history of motion pictures raped by a tree.
The cabin where ED and EDII were filmed was real, wasn't a set built for the films, and "mysteriously" burned to the ground a few years later.
The scenes where the camera "flew" through the forest were filmed using a camera mounted on a board that Sam Raimi and his brother ran with through the forest. It was called, not surprisingly, the "board-cam".
There are numerous subtle and not-so-subtle tributes to the Three Stooges inserted throughout the ED trilogy. Raimi includes some salute to the Three Stooges in all his films.
Re: The Evil Dead
obviously the guy who wrote this article just looked at it without thinking and just watching how "cheesy" it is compared to what hollywood could do. I don't know.
This movie is just too brilliant to be put on Badmovies.org
One of the first underground films to hit a mainstream, hardcore fans status. Cheaply made, yet well done both in effects and atmosphere.
This film needs to be taken off.
Pages: 1 ... 6 7 [8]