HUMOROUS ADVERTISING BANNERS
I was browsing the web one day and started actually looking at the banner ads: VISA, Amazon.com, ect... So, I thought it would be cool if an ad was selling "How to Cook a Cat" or something along those lines. On 2 October 1998, I made my first entirely facetious banner ad.
Tenafly Viper - created 7 October 2003 by Raymond Gibson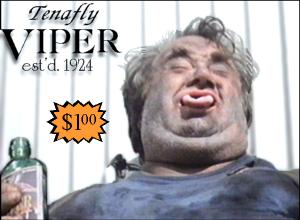 Inspired by the extremely gooey comedy "Street Trash." Unfortunately, I cannot add this one to the banner rotation (the size is a little funky), but it is quite cool.
Kaiju-Be-Gone - created 23 May 2003 by Andrew Elliott

Keeping Tokyo safe for almost forty years (ever since the sprayers popped up in "Destroy All Monsters").
The Blob - created 7 April 2002 by Joe Talledo

I think this is backwards, the Blob always has more room for you...
Crystal Lake Camp - created 8 November 2001 by Alexander Gustafsson

Everybody enjoys going to summer camps; except this one.
Brundle's Telepods - created 26 January 2001 by Mighty Atomic Pikachu

Most people would have lots of angst stepping into a transporter/gene splicer (more like masher), but Mighty Atomic Pikachu doesn't.
Chopping Mall Security - created 30 December 2000 by Suspiria

Suspiria created this one, it pays homage to the best killer mall robot movie of all time. The number of contestants was limited...
StickFigurePorn.com - created 22 April 2000

I'm still trying to decide what Freud would say about this one.
Crazy Clay's Flying Saucers - created 31 March 2000 by Darren Priddy

Darren dropped this banner off in my mailbox, honestly I have modified it a little by changing the palette to 64 colors, but that cut the file size in half.
The Stuff - revised 28 October 2002 by Emi Melissa Briet

A cool updating to my old banner. The www.eatthestuff.com website is rumored to be in development as a tribute!
The Stuff - created 27 January 1999

This was begging to be made. Any time a dessert eats people...
Kuddly Klowns from Outer Space - created 22 January 1999 by Jen Deacon

A great banner (I love Klowns - which is okay if they're over 18) submitted by Jen Deacon, the lady is obviously better at graphics than myself.
Father McGruder's Kung Fu Class - created 13 January 1999 by David Emery

Inspired by the AWESOME bad movie "Dead Alive" and a hearty thanks to David for this excellent banner!
Cat Farmers of America - created 3 October 1998

There's a vet near my house called "The Cat Clinic" and it's right next door to an Asian fast food place. I think McDonald's would have disturbed me more though... ...try a new "McKitty Burger!"
WILO Eyewitness News - created 3 October 1998

This ad was inspired by a skit in "The Kentucky Fried Movie."
WILO Eyewitness News 2 - created 7 October 1998

Yet another ad inspired by a skit in "The Kentucky Fried Movie."
WILO Eyewitness News 3 - created 7 October 1998

I'm on a roll! Gotta love the "Kentucky Fried Movie!"
Master Sardu's White Slavery Ring - created 7 October 1998

"Bloodsucking Freaks!" Troma Team made a movie with massive nudity and a blowgun-using midget!