COMMANDO -
Rated R
Copyright 1985 Silver Pictures and 20th Century Fox
Reviewed by Bill Clark on 11 July 2001





Col. John Matrix - Arnold Schwarzenegger! Fearless hero who will stop at nothing to save his daughter from evil men.
Cindy - Rae Dawn Chong! Innocent bystander turned Arnie's accomplice. Lots of bad acting and puns from her.
Arius - Dan Hedaya! Our villain who is determined to make Matrix perform an assassination in order to regain political power. Horrible accent! Takes about four shotgun blasts to the chest.
Bennett - Vernon Wells! Arius' main henchman, who also has a military past with Matrix. (What a shock!) Gets impaled by a piece of piping. Shame.
Jenny Matrix - Alyssa Milano! Matrix's daughter, who spends most of the movie squealing and trying to escape Arius' compound.
Major Gen. Franklin Kirby - Matrix's "boss," so to speak. His job is to warn Matrix of the impending danger.
Sully - Another one of Arius' goons. Makes for several hilarious scenes. Dropped off a cliff.



You'd think that after "The Terminator" the bad guys would know not to mess with Arnold Schwarzenegger.

This is a movie that is hardly plot-driven. It's more of an excuse for Arnold to dispense of the baddies in as many ways as possible. Let's just say that there are plenty of them to dispense of!

In Arnold's breakthrough film (at least in terms of him having spoken lines in a movie), he is pitted against a gang of thugs commanded by Arius, an evil dictator who wants to regain his political power by assassinating the current leader (it's explained in the movie for about two minutes). Who can do the job? John Matrix of course! To up the ante, the goons kidnap his daughter, Jenny (a very young Alyssa Milano).

From here the movie basically becomes Rambo times ten. Matrix is literally a one man army, and literally takes on an army (see the last twenty minutes of the film). Arnold's presence alone makes the film a blast to watch, and his dry humor works surprisingly well.

The action sequences are frequent and extremely violent. Some of the more gruesome deaths (cutting off part of a guy's head with a sawblade, cutting off appendages, etc.) just look silly. I'm sure all who were involved knew this would be a silly movie. Nevertheless, the action is perfectly outlandish and only Arnold (well, maybe Stallone) could have pulled this one off.

But the movie is so bad! With a plethora of continuity errors, bad acting, and implausibility in general, this is an easy flick to write off as mindless fun. A must-see!
| | |
| --- | --- |
| Things I Learned From This Movie: | |
Receiving approximately ten seconds of high voltage electricity throughout the body does NOT hamper a person's fighting skills.
An incinerator door, when removed for use as a shield, is NOT hot.
Jumping off a plane's landing gear into a swamp with a depth of about three feet does not get you wet or cause any bodily harm.
Expensive sports cars can repair themselves after being flipped.
The bad guys will NEVER shoot you when you are about to detonate a bomb.
It is possible to remove a piece of metal piping from a wall and impale someone with it, then have one end shoot out steam.
Malls have an unlimited number of cops who will spend all of their energy on one man.
Crashing head-on into a telephone pole does no bodily harm to you, whether you are wearing a seatbelt or not.
Matrix: "Don't disturb my friend; he's dead tired."
Matrix: "I eat Green Berets for breakfast"
Matrix: "I'll be back Bennett!" (He really says it!)
Matrix: "Let off some steam Bennett!"
| | | | | |
| --- | --- | --- | --- | --- |
| | Audio clips in wav format | SOUNDS | Starving actors speak out | |
File
Dialog
commando1.wav
Bad Guy: "My people have got some business with you, and if you want your kid back then you've got to cooperate. Right?"
Matrix: "Wrong!" (Gunshot)
commando2.wav
Arius: "Your father seems to be cooperating. You will be together with him soon. Won't that be nice?"
Jenny: "Not nearly as nice as watching him smash your face in!"
commando3.wav
Cindy having a cow.
commando4.wav
Matrix: "Remember, Sully, when I promised to kill you last?"
Sully: "That's right, Matrix. You did!"
Matrix: "I lied." (Sound of Sully falling a long way.)
Theme Song
Listen to a clip from the soundtrack.
| | | | | |
| --- | --- | --- | --- | --- |
| | Click for a larger image | IMAGES | Scenes from the movie | |
| | | | | |
| --- | --- | --- | --- | --- |
| | Watch a scene | VIDEO | MPEG video files | |
commando1.mpg - 1.9m
Arnold is making his assault on Arius' fortress and cutting a swathe through the fodder thrown before him. Watch the one guy on the far left who falls down. Must have been hit by a ricochet or something...
| | | | | |
| --- | --- | --- | --- | --- |
| | Leave a comment | EXTRAS | Buy the movie | |
Re: Commando
Reply #41. Posted on February 17, 2008, 05:07:37 PM by Terff
I saw this movie online a couple months ago. Man oh man! I agree with just about everything the reviewer says. Ms. Rae's acting is terrible (I specifically remember thinking that to myself while I watched her), the fight scenes are incredibly cheesy (amazing how probably 50 heat-packing soldiers cannot even nick Swartz, yet some bad-a dude with a knife can nearly take him down), etc. etc. This movie is just an excuse to blow up stuff.

But it still kicks @$$!
What was that overly dramatic line the major said after he learned Matrix was going to "visit" the baddies to get his girl back? "Get ready for WWIII!" or something like that. He, he, he...
Re: Commando
Reply #42. Posted on February 26, 2008, 08:41:05 PM by monoceros4
Last night I was watching some old MacGyver episodes (ah, MacGyver, another wonderful example of '80s cheese) and who should pop up as the villain in an episode but Vernon Wells. About ten or fifteen pounds lighter and dressed a bit more conservatively, but not looking or sounding much different than in Commando.

I also watched the movie again semi-recently. I'd misremembered the boss battle at the end, recalling it for some reason as being far more one-sided than it actually was. Bennett actually gets some licks in, although he doesn't look as if he should.

By the way, you've got to love how, when the cops show up at the surplus shop to arrest Matrix, they don't even bother to check on the lone car in the otherwise empty parking lot where Rae's waiting. You think that'd raise a bit of suspicion.


Re: Commando
Wow. I first saw this movie when I was about 7 years old, and have seen it many times since - I still love it. Bad acting, explosions, the Incredibly Undefeatable Extra, Arnold Schwarzenegger speaking actual dialogue...this movie is still fun to watch!!!
Re: Commando
Reply #44.
Posted on November 13, 2008, 08:40:37 PM by
Torgo
Here's a funny remix of part of the final battle siege.
Re: Commando
Reply #45.
Posted on January 14, 2009, 10:35:50 PM by
AllisonSNLKid
That was GREAT!
Re: Commando
Reply #46. Posted on September 19, 2010, 02:00:38 PM by luke-jones


What
was that lady thinking?
Arnold asked her to bring Sully over to him and she tries to
turn him in?
Excellent
action scenes and Quote from Arnold:
Why don't they just call 'em
Girl
George?
Re: Commando
Reply #47.
Posted on November 08, 2010, 03:16:20 PM by
KiwiGirl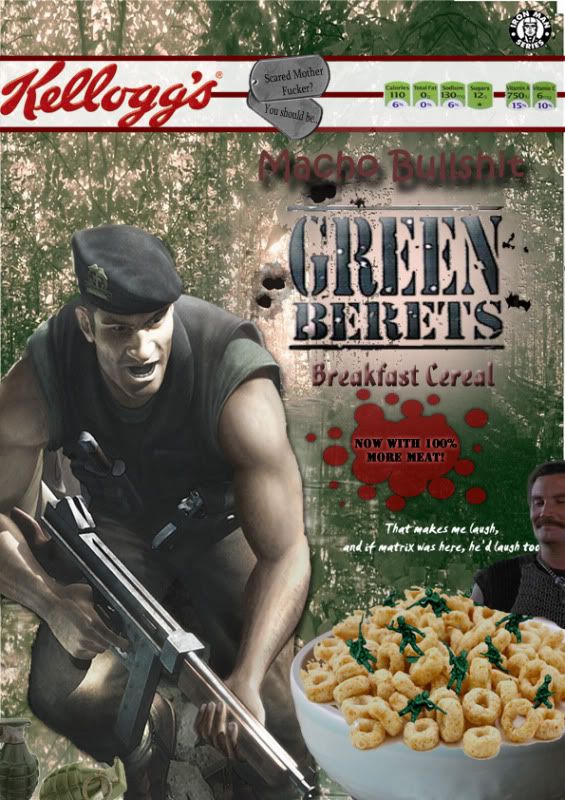 Now we can all eat Green Berets for Breakfast!
Re: Commando
One of my favourite movies of all time, I can watch this film an indefinite number of times and never grow tired of it. The fat-australian accented-chainmail and leather wearing-porno mustache sporting-knife weilding villain is definately one of the best villains i have ever seen in film.
Pages: 1 ... 4 5 [6]